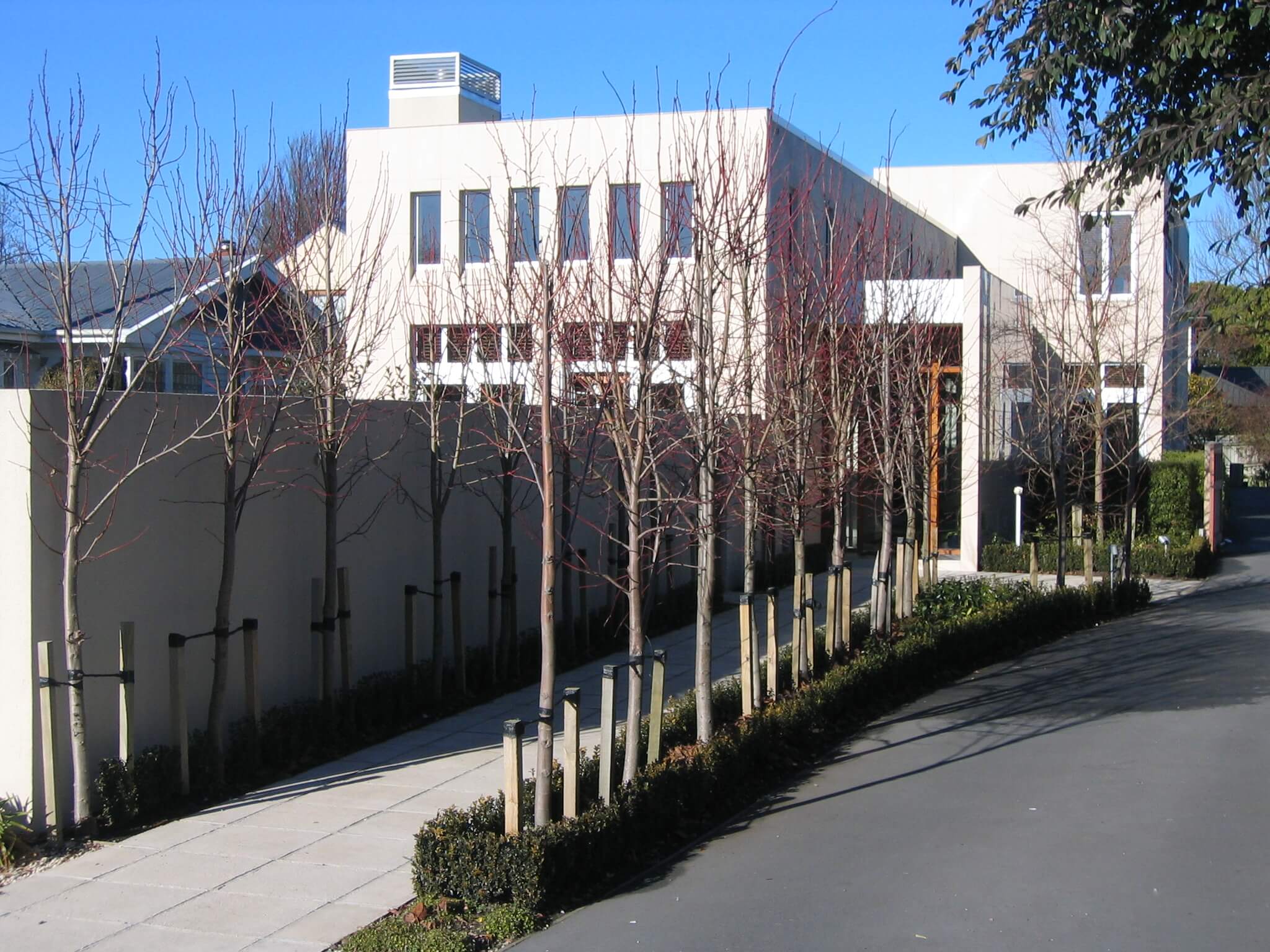 Aynsley House
Christchurch
Prior to our first meeting, our clients had decided that they wished to build a warm and contemporary house on the site of the old family home that they had lived in for 34 years. The new house we designed for them occupies a long narrow site in a quiet, established residential street. The long narrow section lent itself to a narrow and long house with a linear organisation of rooms; the house is stepped down the site in three segments, creating a series of indoor and outdoor rooms. The outdoor spaces are integral to the house; each space has a different mood and receives sun at a different time of the day.
In order to retain some reminders of the original house and garden, we decided to retain a large established plum tree located in the middle of the section. The house is stepped around the tree, creating an inviting, protected and private courtyard space, which can be used for relaxation or informal entertaining and can be appreciated visually from both levels inside the house. The house is used to define the size and shape of the garden and vice-versa, so a pleasing balance is struck between built form and open greenery.
The house is located on the site to take full advantage of the sun. It is one room wide, which results in each room receiving sun and views. Large sliding doors link different areas in the house, enabling a flexible use of space and allowing light to be borrowed from adjacent rooms. The house is set back some distance from the street so that it is consistent with the existing streetscape. This has resulted in a large north-facing terrace and garden opening off the lounge at the front of the house, ideal for formal entertaining. The well-proportioned exterior porcelain-tiled facade completes the formal setting.
The Lounge and Family Room/Kitchen both have double-height ceilings with clerestory windows at the front and along both sides, which combine to give these rooms a light and airy atmosphere. The sense of spaciousness is enhanced by the rooms' visual connection to outdoor terraces on both the east and west sides.
The house is simple and ordered in its form. Solid plastered Hebel cladding allows deep window reveals, which accentuate the ordered rhythm of the window openings. The use of jarrah joinery lends warmth to the interior and works well with the owners' antique furniture.
Stepping the rooms around small areas of landscaping creates interesting spaces. This mixture of indoor and outdoor spaces allows a more ordered experience with nature and a focus on places to relax and entertain, which is conducive to a comfortable retirement for the owners.